Chrismahanakwanzaka is almost upon us and that means it's time to find a gift for the photographer in your life. If your loved one is anything like me he or she is nearly impossible to shop for and that is mainly because I just buy stuff without telling anyone and then when boxes of gear shows up on the front porch my wife gives me the  "you bought more stuff" look. It's the holidays, so hold off on spending on yourself and maybe share some of this great gear with a loved one so they have some options for you. Otherwise you'll end up like me and get socks and sweaters - WHICH I LOVE BTW JEN! (in case my wife reads this)
1.)
Frio
Lighting with speedlites these days puts a photographer in interesting situations. We can be using light stands, clamps, and a half dozen other means to keep our speedlites in one place. Enter the
Frio
- the coldshoe solution for your hotshoe flashes. The frio attaches to any type of stand/clamp that features a standard 1/4"-20 tripod stud which essentially means it will quickly attach to nearly all stands and clamps used by a photographer. As the lines of photography continued to get blurred the frio is designed to be used with any accessory that utilizes a male hot shoe attachment - microphones, LED lighting, speedlites and so on. The fact that speedlites are becoming more and more powerful and useful in a wide range of scenarios makes the frio an indispensable and affordable addition to your gearbox. The Frio can be picked up at the
Enlight Photo
online store for $14.95 which makes this an awesome inexpensive stocking stuffer for the photographer in your life. I normally have a rule that a gift under $20 isn't an actual give, but the Frio is an exception to that rule.
2.)
Interfit Triple Flash Bracket
If the photographer in your life is  looking to maximize his or her power on a single light stand without sacrificing batteries by upping their speedlite exposure compensation to +3 then you'll want to get them the
Interfit Strobies Triple Flash Bracket.
This bracket allows you to mount three speedlites on a single light stand that, along with the ability to tilt the bracket, gives you a full range of motion and power in one stand. The
Interfit triple flash bracket
will set you back $39.50 at B&H photo (and other online retailers). If your photographer has a slightly larger than normal stocking then this will fit in their like a gem, otherwise get out the wrapping paper.
3.)
Mastering Canon Flash Systems
I wrote about this book
last october
when I read it for the first time and it still holds up over a year later.
Mastering Canon Flash Systems
by
NK Guy
is a must have for your photographer, especially if he or she is trying to get into the very complicated world of lighting with Canon speedlites. Without going into too many details, this book is essentially the holy grail for any canon shooter. It is generally accepted that Nikon is the better platform for shooting with speedlites and there's probably some truth to that. But in all honesty it really doesn't matter what gear you use, if you have the vision to tell the story then the gear is secondary to the vision. That being said, information on lighting techniques for Canon speedlites is pretty sparce. While I'm a huge David Hobby fan, he's a Nikon guy and he will be judged by the photo gods when judgement days comes. I kid of course, it really doesn't matter what you shoot. Resources that are dedicated to Canon flash systems are limited, but with this book your photographer will produce better lit images with their Canon systems. Pick up this book from
Rocky Nook
for $44.95
4)
L.L. Bean Parka 
I live in Buffalo. So having the proper coat is essential to survive any given day here. We celebrated half Christmas with my parents on Thanksgiving because they'll be visiting my younger brother in Brooklyn on Christmas. My wife and I exchanged one gift each and she picked me up this
L.L. Bean
parka that is absolutely, wholeheartedly awesome and I recommend it as a gift for any photographer. This water and wind resistent coat is lined on the inside with soft 300 weight polyester fleece. This parka is suppose to keep you warm in temperatures between 30F to -20F and I can back up the claim that it is water and wind resistant. I was walking on a hike the other day and it begane raining pretty hard and this parka beaded the water off the surface with no additional protection or spray like you would need for other coats. This parka has deep pockets that will fit a small lens, speedlite or other on the go accessories. This parka also has two chest pockets that will easily fit spare batteries, memory cards, a granola bar, keys, a deck of cards, iPhone, grapes, a Frio, energy bar, lens cleaner, grapes and so on. For the price you really can't get a better gift that will have longevity. I told my wife after wearing it for a few days that this is easily one of the best gifts she ever got me, which has now opened the door for her to buy me socks and tie's every year. I love you sweetie. Pick up this parka from
L.L. Bean
($99) 5)
Rosco Strobist Gel Kit
Now I know I said that a gift under $20 isn't a real gift, but this along with the Frio falls into the category of a great gift on the cheap. The
Rosco Strobist Gel kit
is a set of speedlite gels that will allow your photographer to add a splash of color to lighting set up. This kit offers 20 different colors and multiples of many of these colors to offer up a 55 piece kit for your speedlite setup. At $8.29 this
Rosco Gel Kit
is almost as cheap as a lump of coal.
6.)
Radio Popper PX Transmitter/Receiver
So your photographer has a speedlite setup, well they will need to fire these wont they? Give the gift of consistent firing and firing at a distance with a Radio Popper receiver/transmitter. Admittingly, this will be the second most expensive gift on the list, but also a very rewarding gift and one that your photographer will jump in your arms over. The
Radio Popper PX
transmitter and receiver offers full eTTL/iTTL/Hi-speed Sync support for both Canon and Nikon up to a range if 1,500 feet and no line of sight required. One transmitter will allow you to control as many flashes as you desire (as long as they are connected to receivers) and this setup requires no additional cables, pc cables, programming If your photographer has a speedlite setup, it is essential that they have flexibility and are able to shoot from a distance or position a light out of the line of site and expect it to fire. The
transmitter and receiver retail for $249.00
and your photographer will need at least one transmitter and one receiver to attach to their speedlite in order for the system to work.
7.)
Canon 24-70mm F2.8
Ladies, you've asked us to put a ring on it. We did, while being married is awesome the ring the guy wears is about 1/10th the cost of the ring you wear. So for the photographer you love so much pick them up a Canon 24-70mm f2.8L lens. This is a great lens, very versitle, and not super expensive. I mean, sure it/s $1,299.00 on Amazon, but ladies, your ring likely cost $2,000 so lets give a gift that will keep on giving for the photographer you love. If you're a lady and a photographer, then tell your man you don't want a ring, and make him get you this instead. Who needs another ring anyway? This lens will last you longer, you won't lose it in a pool (unless you're shooting underwater) and it will help you make money. Win, win if you ask me.
8.)
Black Rapid Strap
The Black rapid is the last strap you'll need (unless you want another black rapid strap). If your photographer shoots weddings, music, or sports then this strap is a must have in their gear bag. I personally use this on my primary camera in conjunction with an out of the box strap on my backup camera so I can be shooting with my primary and if need be can literally drop it to my side and shoot with my backup. The sliding capability of the Black Rapid strap allows you to pull your camera up like a quick drawing shooter in the ol' west. The Black Rapid also features a small zipper to house a memory card or two and the FastenR mount screws into the camera tripod to properly secure the strap to the camera. Another great stocking stuffer, the Black Rapid RS-4 strap starts at $53.95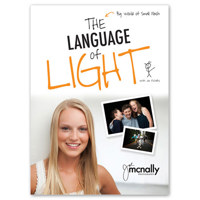 9.)
The Language of Light
I'm a huge proponent of sharing knowledge. Photography is a very transparent art and science and there really is no secrets, despite how many NDA's assistants have to sign. With that, I picked up Joe McNally's language of light DVD earlier this year and if your photographer is looking for a crash course in lighting from a lighting expert then this is the stocking stuffer they need. I love Joe's approach in this DVD; he takes the approach that it doesn't matter what gear you have, Canon or Nikon, light is light and understanding light is the fundamental aspect of good photography. Joe takes you through a very extensive tutorial on the very basics of lighting for photography, starting out with the pro's and cons of the pop up flash. As you progress through the 2-disc DVD you end up learning about very advanced, multi-flash setups that involve radio triggers, gobo's, reflectors and more. If your photographer has mentioned about wanting to tackel the very headache induced life of lighting then this dvd is really a must have. Every single time they watch it they will take something away from it or be inspired to create some stellar images.
$159.59 @ Adorama
. 10.)
Photojojo
Anything on this site will be a fun/useful gift for the photographer in your life. The pop-up flash bounce for $30 looks like an interesting trinket that may get a photographer out of a jam. The iPad CF card reader is essential if you are on the go and need to upload some photo's to the device - $30. The iPhone DSLR lens mount looks awesome, if it works like they say it does then the iPhone 4s with that mount is a pretty darn good lens.
Head over to photojojo
to check out their awesome store! Well, hopefully if you're reading this you have a better idea of what gift to get for your photographer who already has everything.